"I can't stress enough how grateful I am for Rachel. I've been following her for years on Instagram and was thrilled when I saw she became an IHP. For several years, I dealt with irregular periods and after coming off birth control last June, I had concerns about my hormone levels and was dismissed by several doctors, including my PCP. When I voiced my concerns about infertility/hormones after ~8 months of TTC, my PCP referred to me as "high strung" and referred me to a reproductive endocrinologist. I paid an exuberant amount of money for various tests and was told to begin IUI treatments by him as a 29 year old, healthy and active female. This is when I turned to Rachel.
She instantly welcomed me with open arms and validated all the frustrations I had with previous doctors. She was determined to get to the root cause of the issue and we went about managing my hormones in a more holistic, calming, realistic approach that aligned with my values and habits. Rachel offered an incredible amount of guidance and knowledge of ways to manage my stress levels and adjust my workout regimen to help balance out my hormones. After just 3 months of working with her, putting all my trust into and following her recommendations, I got pregnant! Since then, she continues to guide me through this journey and has been there every step of the way. I am eternally grateful for that I found Rachel and would 1000% recommend her to anyone else struggling with TTC, hormone health, and overall well-being. Rachel, thank you, thank you, thank you!!!"
Brittan M., Optimal Health Client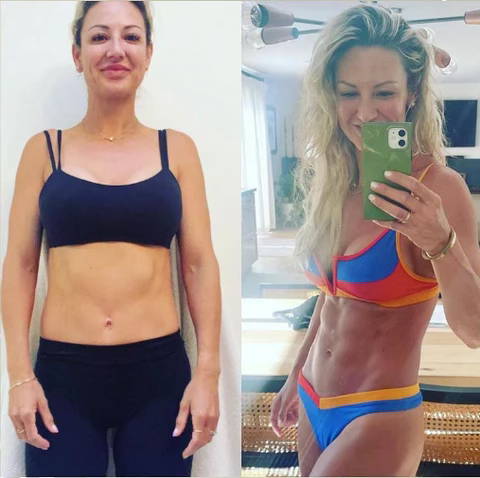 Rachel has changed me and my perception of what healthy can be. I was feeling burnt out, worn down and tired. Being the Mom of two wild toddlers was taking a toll. Being an athlete and former personal trainer I also thought I had the knowledge to always fix my problems with physical results and fatigue. I was wrong! Rachel ran a full hormone panel and she went over my labs. She's incredibly knowledgeable and broke it all down. Putting me on the right regimen of supplements my body responded in a way I have never seen or felt. I couldn't be happier with what Rachel has done for me and I can't say enough how important it is a woman to listen to our bodies and get professional guidance. I am so glad I found her and trusted her with this process."
Jessica R., Opitimal Health Client
I was on birth control for 10 years before I decided to get off the pill and stop poisoning my body. At first the decision felt good but shortly after all the negative side effects crept up on me. I had horrible acne and breakouts specifically in the chin and cheek area of my face nearly every week, mood swings, extreme fatigue in the morning, and it was incredibly hard for me to lose weight even though I worked out 5-6 times a week! After nearly 9 months of struggling with these symptoms and a trip to the dermatologist who gave me chemical ointments and creams that peeled my face like crazy and made my face feel gross… I decided to have a consultation with Rachel. I wanted to do this the natural way and heal my body from the inside out.
After my consultation, blood work, supplement regimen and small lifestyle changes such as less intense workouts and more walks, I saw a quick change in my body. My acne was subsiding, my mood swings were limited, if any, the morning fatigue was gone, I had no bloating and my weight has since stayed consistent which has always been hard for me.
I knew Rachel was educated, informative, kind and compassionate but I never could've imagined the almost instant results I had from following her regimen and suggestions. My skin is glowing (ClearStem rocks!) and I feel overall a million times better every single day! I am SO thankful for Rachel's guidance and willingness to communicate and be there for me throughout this process.
-Kylie M., Optimal Health Client
"Rachel has been extremely helpful on my journey to regulating my hormones! I reached out to her because I was getting some hormonal acne, and also wanting to balance my hormones for optimal health for fertility. She ordered the food sensitivities test as well as the complete stress, mood & metabolism test to see where my levels currently stood. With the food sensitivity, I got to see which foods I had intolerances too, which is super helpful to see what to put in my body each day. And with the complete hormone test, I got to see my levels for all the main hormones that could affect everyday life, as well as fertility. We had a follow up call after the results came in, and she went through each section so I could fully understand where my levels are. Then she guided me on ways to help balance the ones that were too low or too high. She shared natural remedies and supplements that could benefit my overall health. I am beyond happy that I have Rachel on my health team, and by the way I just found out I'm pregnant! So the fertility support was just the boost I needed to help me and my husband conceive after 10 months of trying. Highly recommend Rachel to anyone looking to improve their health and well being!"
- Optimal Health Client
"I believe I am finally getting relief and seeing some changes! I'm very optimist about our conversation and plan! You mentioned things that no one else has ever asked me about. Looking forward to a better lifestyle. Thank you so much!!!"
- Terry F., Lean for Life Client
'''I know first hand Rachel is the real deal!! I was pre diabetic and she lowered my numbers she taught me a lot and I'm truly grateful.
- Kelly B., Lean for Life Client
"Working with Rachel as one of her wellness clients has been amazing for my overall health. Things that I struggle with include knowing what and how much to eat for my body, how to stay motivated, headaches, digestion and low energy. Her recommendations have tremendously improved my digestion and energy. Also, overall her energy is amazing and helps me stay motivated. You can feel her energy and passion for what she does. Her approach is holistic and she tries to work on sustainable lifestyle changes instead of "quick fixes". I highly - highly recommend people work with her!"
-Stephanie M., Optimal Health Client
"Rachel suggested that I reverse diet and within about 6 weeks my hunger was back under control and now I'm down 27 pound!! When people ask me, I credit Rachel with figuring out the crucial part that no one else could….(and I asked A LOT of fitness people). Your advice was crucial to control the hunger hormones, convince my body that it isn't starving and even though I am 45 now, my body is back to losing weight like it did when I was younger. THANK YOU FOR THAT!"
- Jessica P., Lean for Life Client
"Okay, I'm SO excited Rach! I haven't had a single breakout since a week after I started. I went to dinner tonight and had pasta for the first time since I started. I haven't been able to have pasta without being bloated in IDK HOW LONG! And tonight.. NO BLOAT!! Like what?! How?! I'm so happy. 😊
I'm in awe of how quickly my skin cleared up. Like literally within a week!! Zero break outs.
I was definitely skeptical at first. You know I've tried everything so it's just exhausting and I've just always felt like this medical mystery. Seeing the results that quickly in my skin really surprised me in the best way. I thought it was only hormones but dang! All gut. Just want it to last and be able to enjoy eating like you know I like to!! 😋"
-Katie K., Optimal Health Client (Healing SIBO)
"Already I am sleeping better, like through the night with no disturbances! The SPM active has already eased joint pain some and my energy is up some also. So, the menopause bundle and the SPM active have helped already….😀"
- Marcie, Optimal Health Client
"Hey Rachel!! So just a quick update on the SPM Active supplement. It's only been like 10 days but this is huge. I've struggled with carpal tunnel syndrome for several years, this week it has significantly improved. I am not sleeping with a brace on for the first time in 6 months. 🙌🙌🙌"
-SPM Active User